Almost 8 out of every 10 people living in cities and towns of India are connected to the #Internet. And what do they mostly do on the Internet?
They utilize their 1.5 GB data while infinitely scrolling through social media, of course.
In this article, we will look at 5 effective tips for #fundraising on Social Media.
If I talk specifically about India, we have approximately 500 million Internet users out of which ~250 million are on the social media site we all know as Facebook.
This makes Facebook a highly significant social media platform for #fundraising_campaigns.
Let's start with the first one.
Choosing Social Media Platforms
The choice of your platform mostly depends on the geographic location and the target group you want to reach. In the case of India, we obviously cannot ignore Facebook. Apart from that Twitter, Instagram, and Linkedin are also pretty popular among the youth and professionals.
Snapchat and Pinterest can also be explored depending on the target group.
It is a good idea to focus on one platform where you get the maximum reach or the maximum engagement but other platforms also hold value. Think about your audience and then create personalized write-ups for each social media platform.
Analyze the responses you get on each social media and create follow up campaigns to target those who show some interest in your campaign.
Regularly posting updates about your campaign and the work done keeps the window of transparency open and also attracts new donors.
Facebook Fundraisers are also becoming quite popular. We will talk about them in detail in the upcoming post.
Increasing Organic Reach
NO, I am not talking about organic farming.
You must have always heard and experienced that people are more likely to buy a product or a service when they hear about it from a known person. Yes, Word of Mouth (WOM) as it is called in marketing.
But in non-profit marketing we are not selling any product or any service then how does it help?
It is human nature to fit-in to be not be seen as a freak or a weirdo and as groups show the tendency to conform, it can be used very effectively to create a chain of donations (small or big doesn't matter).
So, for this creating a broadcast list or a WhatsApp group with all your donors or prospects is a must. Ask your donors to share your campaign on social media and tag 3 or 5 five friends who could help.
Not only this, but you should also be pro-actively thanking all your donors on social media and common Whatsapp groups to gain organic reach for your campaign.
For inspiration take a look at the example below, created by one of my fundraising co-intern at the Confederation of Empowerment Initiatives.
To visit the above campaign, click here.
Collaborating with Influencers (Creativity)
It is not necessary that you want someone with 10 million followers on Instagram or 30K connections on Linkedin to promote your campaign.
Your donors are your first promoters but creativity is an easy tool to get people's attention towards your work. It is the ability to convey or portray the message effectively which counts rather than the number of followers of an influencer.
If you can get a big shot celebrity kind of Influencer then well and good otherwise focus on collaborating with artists and people with distinctive talents within your circle. You will definitely find someone around who will be ready to volunteer.
Create something catchy and meaningful and your campaign would be #viral in no time.
I have listed some examples of creative campaigns in my previous post, check it out.
"Best Fundraising Tips from Mega Fundraising Champions"
Use #Hashtags for better Visibility
The importance of hashtags cannot be overlooked. Hashtags help people find your campaign in the clout of thousands of #social_media_fundraising posts.
You must be thinking that hashtags are just a twitter phenomenon. But no, hashtags work on every social media network and even on Google search.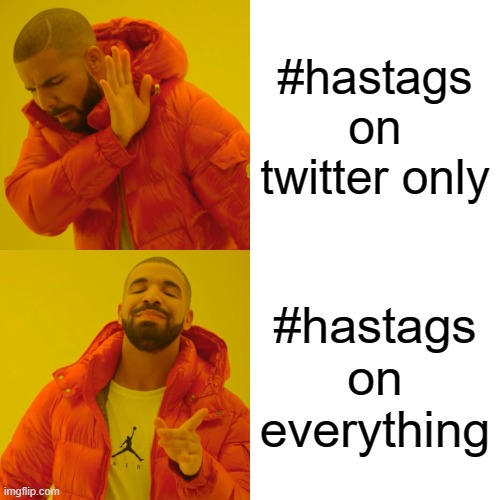 That's why #Internet #Google. hahaha, jokes apart putting a # symbol at the start of a keyword makes it a label that works as a search tag.
Industry leaders and companies follow social posts based on relevant hashtags. So, a #donation or #charity may bring a social activist or a social leader towards your campaign. Also, it helps you define your campaign. It works as an identity for your work.
Do not overstuff your posts with hashtags. Use two to three major hashtags relating to your campaign. Catchy hashtags like Each1Reach1 are always welcomed. But then again do not exceed the limit.
Check here the "Most Commonly Used Fundraising Hashtags on Twitter and Instagram".
Analyzing the Results
Some social media posts get more engagement than others.
It is always better to take a look at your fundraising social media campaigns and analyze them on different paraments so as to get a fair idea about the platforms which are working for you and which are clearly not working for you.
Check every 3-4 days the performance of your posts in terms of the number of people reached, number of comments, or reactions. Linkedin shows you the number of views of a post. It can be a good parameter but it is not the only one to determine the success of your post.
Engagement is the key as the only relevant audience will be interested in commenting on your post or sharing it. You can use the following table for your reference.
Thats all for this social media guide on non-profit marketing and fundraising.
Do not forget to share the article on your social handles. Sharing is caring.
Also comment down your thoughts and suggestions.
In case you want to contribute to the blog or have any idea you want to discuss feel free to mail us at [email protected]
Thank you.